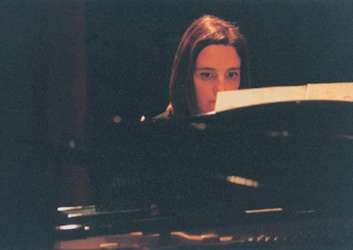 Silvia Leggio, pianist
Silvia Leggio graduated cum laude from the Conservatory of Palermo and then went on to perfect her technique in master classes held by Maestros Gyorgy Sandor, Bruno Canino, Alexander Lonquich and Paul Badura-Skoda.
She, herself, has thaught in five different Italian conservatories, in adding to building her variegated concert career.
She has performed as a soloist as well as in chamber ensembles for Italy's most prestigious concert societies, including the Amici della Musica of Palermo, the Taddei Palace of Florence, the Accademia Filarmonica of Messina, the Teatro Massimo of Palermo, the Arts Academy of Rome, the Società dei Concerti of Milan, and the Teatro Comunale of Reggio Emilia. She has also been on tour in Egypt, Portugal, Denmark and in the Leser Antilles. At the present Silvia is teaching in the Monopoli's Conservatory of Music.
Back to:




'); //-->