---
There are Quilters in Italy
---
Welcome in the Patchwork's World!


This page is a way to make to known the passionate Italians quilter my experience in this field
I have been in quilting since may '95, I have begun attending a short course that has gave me the bases and all I wanted to know about this wonderful and creative Americans Art!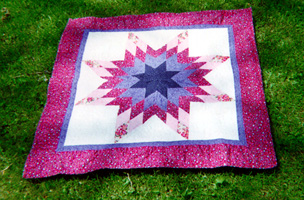 This quilt is made by a beloved friend of mine, Marissa Vignali an Uruguayan girl, of italian origins that lives in America. She has an Internet site where you can admire her beautiful quilts and know a little more about this special friend :Marissa's web page!
---
Patchwork has born in America with the arrival of the pioneers, the women used to recycle old scraps and clothes to make some warm covers for the winter. The assemblage technique gradually grew up until becoming national art in America.
In Italy this technique is not so popular like in USA, but in the last years it seems that the interest for patchwork and quilting is growing, thanks to magazines and reviews of feminine works.
log cabin

Give a look, you will not repent, you will find the plans in order to create your patchwork blocks!
below you can find Linksome patchwork related site.
Click on the buttons to activate the connection to the several link listed below!
New!! Go and visit the Patchwork club of Udine, "The Bear's paw group".

IHF is an Italian feminine hobbies site, you will find a section of patchwork, there are photo of quilts made by the quilters that partecipate to the Ihf mailing list!

YOU MUST SEE IT!! this site offer to you a big quantity of marbellizzed and hand dyed fabric, the owner is a friend of mine, Geana Knowlton that I knew this summer when she went in Italy, I have tryed her fabric and I can say that it's wonderful.

American's Favorite Quilting
Quilt on-line
Marissa Vignali quilts
American Quilter Society
An americans quilters reveals to us the patchwork and quilting techniques.... Debbie Richards
There is a newsgroup for Quilting e Patchwork, called:
rec.crafts.textiles.quilting I have been a lurker for awhile, and I have found several useful councils to speed up my methods and very sweet person! Bye and hope to hear from you soon, Giusy

What's new about shows and competitions:


Are you ready? Well, let me speack about the Patchwork and Quilting European Expo, it's the most big european manifestation, with many vendors and shows, it's biennual and this year will be held in Strasbourg (France)! Contact your meeting quilting group, association etc. for more informations.

This past year in Modena has been held "Incontri '99" that was an immense exposure of "craft shops". A stand has been dedicated to the first national quilt show in Italy held by the "QuiltItalia" association in collaboration with Bernina Italia, for more information on the Bernina products, that it has put to point various sewing machines for quilters of all over the world, visit theire web page:


Speaking between us... Tips and news!



this is a new space in this site, I have thought to start a direct threads with you! I have received various letters from you and I would love hearing from you more!! Please, write me and give me suggestions about the site, what you would love to find here etc. I'm trying to modernize it
In the course of this year I have discovered my love a new one passion!! The Country quilting stile! It is characterized by colors that recall the nature and the heart, those color like green, brown, yellow, red, black red, etc. shades. I also discovered 2 authors of americans book dedicated to the Country quilting, "Debbie Mumm and Lynette Jensen, the last is really famous for the Thimbleberries brand! Both have a recognizable and characteristic style, visit theyre relatives site: www.debbiemumm.com
the thimbleberries companion You'll discover exciting world!

Tips of the month!
If you have an old jeans blouse, don't trush it!!
Renew it with some appliqué and embroidery! I just have finished to make this experiment and in this moment I am writing, I am wearing it!

---


If you would contact me for some chatting, councile or info, write me! send me an e-mail!


---

You are the visitor number, thank you!
View and sign my guestbook!