SoldierBlue presents
McKay's Story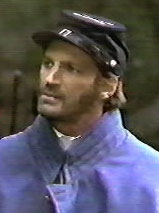 Welcome!

This is my fanfic site, dedicated to the show Doctor Quinn, Medicine Woman;

and in particular to

Sgt. Terence McKay, one of its most appreciated minor characters.

Listen to McKay!





Contents

The David Beecroft Page
Pictures, movies, reviews - A section of this site dedicated to the man playing McKay.

So, What's New?
A look behind the scenes of "McKay's Story" and "The David Beecroft Page"



Texts:

FANFIC SUMMARY - updated once a month.



Unofficial Guide to McKay - episodes, essays, reviews, trivia (work in progress).



The Silly Page - just what it says!



Poetry


Other:



The Gallery - Screen captures and drawings - UPDATED!



Songs - just when you thought SB couldn't stoop any lower...



Links - McKay, DQMW fanfic, friends and more.



Meet SoldierBlue - period costumes, plus links to my re-enactment group and to other historical sites






Visitors since August 7, 2000:




(Add some 930 lost for repeated and unexplained resetting from May 12 to August 7. If it reads "1", it means it's been reset again.)





E-mail me: SoldierBlue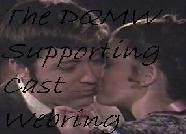 This Dr. Quinn Medicine Woman Supporting Cast Webring site owned by SoldierBlue.

[ Previous 5 Sites | Previous | Next | Next 5 Sites | Random Site | List Sites ]



Created on December 1, 1999 - Updated once a week


WARNING

All stories are "family" stories, in the spirit of DQMW episodes, yet they contain in a very mild measure adult situations, bad language and violence. To be on the safe side, I'd rate them PG-13. If you go on reading, it means you hereby declare you are over 13 or are supported by an adult.


DISCLAIMER

I'm perfectly aware that most of the characters appearing in these stories do not belong to me. This is made just for personal reading and does not mean to infringe on any copyright.

This page is in no way associated with DQMW or any of its actors. It has been created out of respect and admiration: any mischievous remark means no disrespect and is intended solely for good-natured fun.


CREDITS

Copyright © 1999-2000 SoldierBlue. All rights reserved. All stories and artwork belong to me. You can reproduce them, provided you keep them unchanged, keep my name in it and drop me a line.


Texture backgrounds provided by
Absolute Background Texture Archive


Lines and bullets by
A-1 Clipart Archive


Picture provided by
Mrs. Rev






Thanks
(more or less in order of appearance)

My Ma, who started it all.
My Pa, who sat through endless lunchtime dramatic recountings.
My Aunt, ditto - and not limited to lunchtime.
My Wits, for not deserting me when it came to put up a site all by myself.
Sugar, for creative input and a sympathetic ear.
The ladies of the Delphi Forum, for the names of the children.
Mrs Rev, for the first McKay pics.
Marilyn, for providing sources, recovering data and giving feedback.
Mr. Stark, for getting me started with the web counter.
The ladies of the DQMW List, for assorted info on David Beecroft.

And all of you who wrote, chatted, linked to my site, sent me tapes, pictures and info, shared your fanfics... you know who you are!

'); //-->