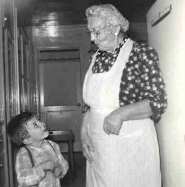 Allen and Nonna Rizzi in 1953
I never knew my grandfather and only knew my grandmother as a small child growing up in Southern California in the 1950's. My memories of my nonna were of a large woman with white hair who baked wonderful little cookies and spoke very little. There was little more I could remember other than to say she died in 1956 when I was only eight years old. As I now have passed the half-century mark myself, I often wish I could have known both of my grandparents as an adult and shared with them the lost knowledge that I have worked so hard to reclaim. This is their story.
Eugenio Stefano Rizzi was born on September 15, 1874 near Essen, Germany in a district called Pranhausen while his parents were visiting his mother's family. Shortly thereafter, the family returned home to Cloz, Italy in the Val di Non which was then part of Austria. Like many children of that time and place, Eugenio found life to be as hard as the nearby Dolomites. He lost his father, Giorgio, when he was just a boy. From age 11 to young adulthood, his mother Francesca Von Trost raised him with the help of family including Eugenio's grandfather, Eugenio. Francesca was a strong willed woman from Rieneck, Germany who set young Eugenio on the path to maturity. Times were hard and fast moving in the Val di Non during the years ahead but young Eugenio meant to make the most of his life. As with so many Trentini of the time, the lure of America beckoned.
Sometime around his 21st birthday, Eugenio arrived in Rock Springs,Wyoming and began to meet others from the Val di Non who had immigrated in the search for a good job and a better life. Mining was the steady work that attracted so many immigrants from Trentino, but Eugenio wanted to do something different. In 1896, after working as a dollar per day miner for a very short time, he joined fellow Trentini Joe Bertagnolli, Leo Bertagnolli, Lazzard Profaizer and Louis Magagna in the operation of the Fountain Saloon, a local Rock Springs bar. Business was good and the enterprising Eugenio soon had enough money to enter the sheep ranching business with some of his friends.
The Fountain Saloon in 1896.
Left to Right: Joe Bertagnolli, Leo Bertagnolli, GeneRizzi, Lazzard
Profaizer and Louis Magagna. (Photo: Leno Zadra)

After establishing himself marginally in this new enterprise, Eugenio sent for Anna Maria Flor of Brez to be his wife. Anna was the daughter of Raffaele Flor and Marianna Avanzini, both of Brez. Leaving home for a new and distant land that one had never seen must have been filled with fear and wonder for this young woman. Anna and Eugenio were married on October 20, 1897 at the Church of Our Lady of Sorrows in Rock Springs, Wyoming. Both were young, vibrant, proud and eager to move forward with their dreams. As Father John Delahunty performed the service, with old friends Louis Magagna and Florentina Bertagnolli serving as witnesses, a whole new era began for the new Rizzi family.
Eugenio Rizzi
Anna Flor
Portraits painted at the time of their wedding in 1897.
The Rizzis settled comfortably into their new life in Rock Springs. Although they were living a new life in a new country, the presence of so many others in the community with roots in the Val di Non brought comfort and familiarity. Rock Springs echoed the names of many from the "old country." The sheep ranching business proved to be hard but profitable. Life was moving along quit nicely. On December 29, 1898, the Rizzi's first child, Rosalia, was born in Rock Springs. Two more children followed; Rinaldo born August 29, 1901 and Giorgio born December 27, 1905. The family flourished as it grew.
The Rizzi family circa 1904
Anna, Rosalia, Rinaldo, Eugenio
The Rizzis returned home several times to the Val di Non to visit friends and family. Following their financial successes, they purchased two houses in nearby Merano and then later a villa in Lagundo. The houses in Merano are still there today, located on Via Monestero near the center of the city. The whereabouts of the villa in Lagundo remains a mystery. The family is still searching for the location. The Rizzi's success in America elevated their ability to care for their family and build a better life for themselves. While Eugenio developed a fondness for the finer things in life, Anna remained steadfast as the practical side of the couple. Hard work and courage had paid off. In almost every way, it was the American dream come true. Simple immigrants with determination had succeeded. But dreams seldom come true without a large price to pay.
Eugenio Rizzi's grave marker in Cloz, Italy
The Rizzi family's fortunes took a severe turn for the worse in early 1912. Eugenio, while rounding-up sheep one late winter's evening, fell through the thin ice of a Wyoming stream. Although he did not drown, the episode left his health seriously impaired. Knowing that his health was in serious jeopardy, Eugenio sold his share of the sheep ranch to Louis Magagna for one dollar per head, land included, and returned back to Merano with his family. Several short months later on September 11, 1912 he died in Tret at age 38, the victim of a heart attack. He was then laid to rest in Cloz at the church of Saint Stefano. Anna, now a widow at age 35, honored her husband with a magnificent grave marker featuring a full-face relief and overhanging olive tree. The monument was then and remains today a true work of art.
Rosalia Rizzi
Anna was a strong woman, but her life had been turned upside down. She was now alone in the world and would raise a family by herself. Expecting her fourth child, she returned to the relative safety of the house in Merano and waited out a very long and lonely winter. When spring arrived, Anna turned to her sister Armida for help. Armida had married Emmanuel Bertagnolli some years earlier and had moved to Tret, a small village near the very top of the Val di Non. It was there in Tret, on April 1, 1913, that Anna gave birth to her youngest son, Eugenio, who was named for the father he was destined to never know. Set against the pain of losing her husband at such a young age, Anna must have found renewed hope in the eyes of her new baby. After Eugenio was born, Anna moved back to Merano and then to the house in Lagundo. Rosalia, now 14, helped Anna care for the new infant. Life was just starting to settle down again when Anna was dealt a second crushing blow with the death of her daughter Rosalia on July 1, 1913. She too was buried in Cloz, "al fianco del Padre." In the latter half of that year, Anna must have felt totally abandoned. Within 12 months, she had lost both her young husband and her first born child.
Following Rosalia's death, Anna became severely depressed. She had the added burden of raising her three remaining children completely by herself. Although she persevered, Anna's life was never to return to the days of hope and happiness that had been swept away. Shortly, the war in Europe found its way to Trentino. On the advice of her brother, Anna invested much of her remaining money in German war bonds, losing all of her investment. With the Italian occupation at the end of World War I, the Trentino Alto-Adige was transformed overnight from the southern most region of Austria to part of Italy. The German language was outlawed in public schools and upon the streets. The names of cities were changed to Italian. The familiar Bozen was now Bolzano, Meran was Merano, Algund now Lagundo. In the midst of this transformation, the young Eugenio became a favorite of the occupying Italian troops because, although just a small child, he had the ability to speak both German and Italian and thus serve as a translator to the local residents. The post-war years were weary for much of the local population. After several years of struggle and disillusionment in Merano, Anna moved herself and her family back to the United States, settling in Rock Springs and then in Price, Utah. Giorgio had also settled in Price where he purchased and ran a hotel. His older brother Rinaldo returned from living in Merano for eight years and settled in Kemmerer, Wyoming where he became a very respected member of the community. Rinaldo married a local pioneer resident's daughter, Gwenn Fenn in 1924 and had one daughter, Norma Jeanne. The young Eugenio traveled back to Vienna, Austria to study violin at the Music Conservatory of Vienna. And so once again, life for the Rizzi family seemed to have returned to normal.
| | | |
| --- | --- | --- |
| | | |
| Rinaldo (Roy) Rizzi | Giorgio (George) Rizzi | Eugenio (Gene) Rizzi |
However, Anna had returned to America only to witness and live through one of the country's darkest moments, the Great Depression. The frontier west of Wyoming did not escape the depression's wrath. Despite severe financial hardship, undaunted and with the emotional support of others who had immigrated from the Val di Non to Wyoming, Anna gradually became ready to move on with her life. In the early 1930's, she moved to San Francisco, California to be with her son Eugenio, who had recently finished his schooling in Europe and was playing violin with local orchestras. Mother and son soon moved on to North Hollywood, California where Eugenio began a career as an actor with Columbia Pictures and Fox Studios. The remaining brother, Giorgio, also moved to North Hollywood and purchased a small house. The next few years were shared by the family in California in relative peace.
When Rinaldo Rizzi settled in Kemmerer, he began his working career with his uncle, Giovanni (John) Rizzi who owned the local Union Mercantile Store and later became mayor of the town. Since the early days in Merano, when he used to carry his younger brother Eugenio in a rucksack over the Passo Palade to Tret, Rinaldo had suffered from ill health. Diagnosed with rheumatism, Rinaldo's health continued to steadily decline. In 1939, Rinaldo entered a hospital in Salt Lake City, Utah with complications arising from his long illness. Anna traveled hurriedly from California to be by her son's side. From his hospital bed, Rinaldo looked up into his mother's eyes and whispered, "I don't want to die now." Anna embraced her son and Rinaldo died quietly in his mother's arms. His life, like that of his father's was very short; a mere 38 years. Again, the cruel hand of fate had dealt a deadly blow. Badly broken by the experience, Anna returned to North Hollywood, California seeking the solace of what was left of her family.
For many years, Anna lived in a little guesthouse behind Giorgio's home in North Hollywood. This is where I first remember seeing my nonna. The house was very small with a comparatively large kitchen. It was there that my nonna made the wonderful krapfane and other fine little pastries that I still fondly remember. She spent much of her remaining years quietly tending to her tatting and keeping in touch with others from her past. Above all, she took the time to take care of family and preserve the simple traditions that she had imported from the Val di Non. I remember the kind but faltering voice, never quite confident with her new language. I remember the little bits of Nones that would sift out from behind closed doors late at night. I remember the sights and sounds of a history and of a time gone by that I was too young to comprehend. I remember the sound of the small brass bell she would ring when she needed oxygen administered during her last days in our home in San Fernando, California. And I remember too the day she died, as it was the only time I had ever seen tears fill my father's eyes. Anna Rizzi passed away on November 24, 1956 at the age of 79.
With her passed an era of memories and experiences that I have just recently begun to explore. I still have thousands of unanswered questions and years of history to explore. I hope to do the task justice as I proceed carefully in the footsteps before me, from the Val di Non to Rock Springs and back again.
Allen E. Rizzi lives in Eugene, Oregon in the United States.
His family originated in the villages of Brez, Cloz and Tret in the Val di Non.
He may be reached at: allenrizzi@aol.com
The Rizzi family maintains a website at:
www.geocities.com/Heartland/Hills/7388/