TIME BANDITS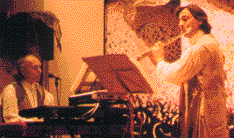 flute and special effects
keyboards

Since 1982 Andrea Ortu and Pier Paderni are following the ever intriguing work of live performing, improvvisations, searching and jamming along different musical styles and tradition.
TIME BANDITS experience actually came to life, as a performing group, when the two composers and musicians produced 12 pieces inspired to J. R. R. Tolkien in 1995.
From the original idea of Pier Paderni and Andrea Ortu, born during live concerts, has come to light a rather innovative and new concept in the execution of classical as well as traditional and modern compositions.
The "sound melange" that colours their late CD work titled TIMES' DECEPTION indicates a long period of searching in colours and dynamics.
Their last CD, Time's deception, futuring compositions from G. F. Telemann (1681-1767), C. W. Gluck (1714-1787), J. S. Bach (1685-1750), G. B. Sammartini (1700/1-1775), F. J. Haydn (), G. F. Haendel (1685-1759), B. Marcello (1686-1739), C. Corea (1941), Irish pieces and W. Croft (), is characterized by a modern sound which gives the illusion of timeless brotherood amongst the composers of different ages and style.
Live performing of TIME BANDITS creates a rather impressive suggestion due to real time play without use of any sequencers or prerecorded tracks: the quasi orchestra final effect is considered, even by philological scholars, as a very innovative concept in the use of modern sound equipment.
TIME BANDITS performs using the amplified flute with special effects and builded in keyboards leyers spanning from harp, violin, harpsicord and orchestral sound, combined into the unique "sound melange" which recalls the ancient pipe organ registration.

For any comunications
send us an e-mail!