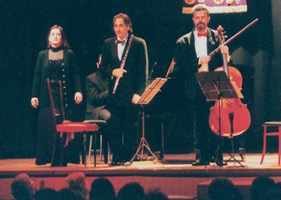 Trio dell'Isola
Andrea Ortu flute
Claudio Frigerio cello
Silvia Leggio piano
The Island trio is an italian chamber group born with a exact purpose: to play music not really known, but all the same interesting and of great quality.
The wish of the Island trio is always to reach and communicate with all kind of audience and the choice of any concert program is oriented in that way.

Besides original compositions we love to play arrangements from contemporary authors (C.Corea, A. Piazzolla, etc.).
We have numerous pieces available:
REPERTORY
L. Van BEETHOVEN Tema e Variazioni
C. M. von WEBER Trio op. 63
F. J. HAYDN Trio Hob XV Nr. 16 e Nr. 17
M. CLEMENTI Trii Nr. 1/2/3 op. 31
G. DONIZETTI Trio
J. L. DUSSEK Gran Sonata op. 65
J. N. HUMMEL Trio op. 78
I. J. PLEYEL Tema e Variazioni
G. F. GHEDINI Musiche per tre strumenti (1963)
C. COREA Trio 1968
C. COREA Addendum
A. PIAZZOLLA Quattro Stagioni (Invierno Porteño, Primavera Porteña, Verano Porteño, OtoñoPorteño)
A. PIAZZOLLA Tre Tanghi (Violentango, Tristango, Libertango)
C. BRUNO Danze americane nr. 2
J. M. DAMASE Sonate en concert
G. SOLLIMA John Africa
AN EXAMPLE OF ISLAND TRIO'S CONCERT PROGRAM
First part
A. PIAZZOLLA Verano Porteño
Invierno Porteño (from Four Seasons)
J. M. DAMASE Sonate en concert
C. COREA Trio (1968)
Second part
A. VON WEBER Trio op. 63 in g minor