~Jacques Offenbach~
(Cologne, Germany, 1819 – Paris 1880)

Jacques Offenbach's real name was Jakob Wiener, son of a Jewish cantor.
Offenbach moved to Paris in 1833 to study the cello, with his brother Julius, who was a violinist. He found employment initially as a cellist at the Opéra-Comique followed by a successful early career as a virtuoso on the instrument, for which he wrote a number of works, including a Concerto militaire and a Concertino. In 1850 he became conductor of the Theatre Francais. Gradually, he became known to the public as a composer of light and humorous operettas. He founded a theatrical company in 1855, the Bouffes-Parisiens, which staged many of his operettas, and he managed the company for many years. He became a French citizen in 1860. In 1876, he toured the United States. He also toured Britain, and his many works had great popularity everywhere. Offenbach completed more than ninety works for the stage. His first success was Orpheus in the Underworld (1858). His most popular compositions appeared in the 1860's, notably La Belle Helene (1864), La Vie Parisienne (1866), La Grande-duchesse de Gerolstein (1867) and La Perichole (1868). Offenbach's last work was The Tales of Hoffmann. The production of this work was in preparation when he died - three months too early to witness its reception, an experience to which he had greatly looked forward.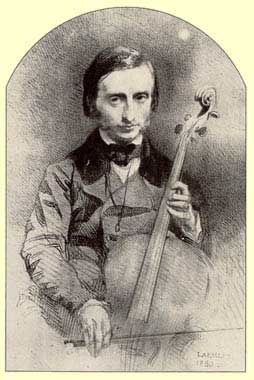 Immagini:
A. Winternitz-Gross, "Violoncellista", olio su tela, ca.1890;
due dagherrotipi erotici francesi, 1853 e '55;
disegno di anonimo con Offenbach che fa la carità a un mendicante;
disegno caricaturale di un'orchestra a vapore, Francia, ca.1860;
ritratto fografico autografato di Feodor Schaliapin, in costume di Mefisto, Parigi 1907;
caricatura acquarellata di Gill, con Offenbach a cavallo d'un violoncello volante,1866;
caricatura di Offenbach di Nadar, da "Les contemporains de Nadar", 1858;
fotografia di J. Offenbach con in braccio il figlio Auguste, ca. 1850;
ritratto del giovane Offenbach al violoncello, di Alexander Laemlein, 1850;
ritratto fotografico di Jacques Offenbach nel 1860, di Nadar.

Musica:
W. A. Mozart, "Voi che sapete che cos'è amor".

©claudioronco2003