OUTER HEBRIDES (WESTERN ISLES), SCOTLAND, UK,
1997 ANTHROPOLOGICAL RESEARCH PROJECT
by Franco Pelliccioni, Italian Geographical Society, Rome, Italy
UNDER THE HIGH PATRONAGE OF THE ITALIAN GEOGRAPHICAL SOCIETY
WITH A GRANT FROM THE ITALIAN FOREIGN OFFICE AND A BRITISH TOURIST AUTHORITY (ITALY) SPONSORSHIP
PROJECT ABSTRACT
It will be outlined the up-to-date socio-economic and cultural position acquired by the islander communities which are still deeply rooted into the Gaelic cultural tradition. These communities are now experimenting an interesting cultural change due to the improvement of communications which has brought, as a "feed back", a consistent touristic presence, too.
The analysys of the communities will privilege six main fields: a) the "Great Cultural Tradition" so typical of isolated Gaelic speaking communities; b) the relation in existence between the persistence of a tradition deeply rooted in the Gaidhealtach (due mainly to the centuries old isolation from Mainland) and the endurance to cultural change (or its acceptance); c) man-environment relation. An historical reading of the habitat will be more directly at hand through a side-survey in the remote island of St Kilda; d) relations among "communities-islands" modulated by the people's belongings to different religions (Presbyterian and Catholic, each one with its own different "world vision" - Weltanschauung -) and to the several "artificial" junctions of different islands. These characteristics cannot but to have made, in the long run, a silent "cultural revolution": in bringing nearer some communities and driven away other-ones; e) the traditional and innovating economy : crofting and farming, fishing, weaving, tourism; f) "quality of life"=development reached by the communities in the four islands-sample approached by the survey: Lewis, Harris, North Uist, Barra.
I wish to express my heartily thanks to:
In the Island of Lewis (Eilean Leodhais)
at Stornoway(Steornabhagh): Mr. Murdo Morrison, Marketing Manager of the Western Isles Tourist Board; Allan Cameron (Italian Translator and Interpreter) - Point- ; Mr. Alasdair G. Macrae, Councillor of the Western Islands Isles Council (Bayhead Electoral Division), and Vice Chairman Arts and Leisure Committee; Alex MacDonald (Crofting Development Officer), Ian Macleod (Fisheries Development) and Keith Bray (Planning Assistant), all of the Western Islands Isles Council; Mr. Malcom Mac Lean, Director of The National Gaelic Arts Project (Proiseact Nan Ealan); Fred Silver, Chief Editor Stornoway Gazette; archaeologist Carol Knott, Tourism Development Programme; Mr. Alistair Morrison, BBC Gaelic Correspondent.
At Ness: Mrs Annie McSween (Dail Bho Thusth) and her husband;
At Arnol: Mr. Norman Campbell "Gigely": ex whaler, sailor, operator in the petrol platforms, crofter and Harris Tweed weaver;
In the Island of Harris (Eilean Na Hearadh)
At Scadabaigh (Hillhead): Mrs. Ina MacLeod, Mr William (Willie) MacLeod and Mr.Donald MacLeod -crofter-;
In the Island of North Uist (Uibhist A Tuath)
Mrs. Maggie Morrison, retired Teacher and Stornoway Gazette Correspondent (Sollas); Mr. Archie Morrison crofter and Historian; Rev. John Smith "Hamersay" (of Clachan), retired Minister of the Church of Scotland; Mr. Donald Laing (of Joiner), retired crofter; Mr. Allan Macdonald (Baleshare), old crofter and father of Donald, Vicepresident of the Scottish Crofters Union; Dr. John MacLeod, my most precious host in the island: General Pratictioneer (Lochmaddy). He is one of the seven Country Doctors that form the WONCA Rural Group, World Organization of National Colleges Academique of Family Practice, crofter James (I didn't write down his surname, sorry…) at Ceathramh Meadhonach;
In the Island of Barra (Eilean Bharraigh)
At Castle Bay: Mrs Doreen Macneil, Western Isles Tourist Board; Captain Roderick "Roddy" Mackinnon (Ruairidh MacFhionghuin), Councillor of The Western Isles and Islands Council - Northbay Electoral Division-; Joseph MacDougall (from Vatersay), Chairman of the Community Council; Donald Manford (Secretary of the Community Council and Chairman of The Barra Branch Crofters Union).
For the side-survey to Hirta Island, St Kilda,
Robert Morrison, skipper of the Eilean Na Hearadh ("Harris Island"), and Sandy Gillies, co-owner of the "Rosa Hebridean Cruises"
And in mainland Scotland
To: the well-known Geographer, Prof. Ian Thompson, Department of Geography and Topographic Science, University of Glasgow, who has been my wonderful host in Scottish land. Thank to him I had the very first and precious Outher Hebrides key-contacts; the colleague Anthropologist, Dr. Simon Charsley, Department of Sociology, University of Glasgow; Alan R. Macdonald (Aílean Bàn Mhurchaidh-Eòghainn), Hebridean Social Worker and Mrs. Morag Macalpine.
BIBLIOGRAPHY
2007 "I 93 scacchi vichinghi riportati alla luce dalle onde del mare. Rinvenuti nel 1831 sulla spiaggia di Uig nell'isola scozzese di Lewis sono cesellati su zanne di tricheco e oggi custoditi a Londra e a Edimburgo", L'Osservatore Romano, 2 febbraio, 3
2004 "...E il telefono arrivò quando l'isola era ormai deserta. Storie di sopravvivenza e di abbandono nell'arcipelago scozzese delle Ebridi Esterne", L'Osservatore Romano, 11 agosto, 3
2002 "La "mostruosa follia baleniera" che si scatenò nell'Atlantico fra l'800 e il '900. Gli arcipelaghi delle Ebridi Esterne e di St Kilda, le Faer Øer e l'Islanda: un viaggio nei luoghi storici della caccia ai cetacei", L'Osservatore Romano, 25 settembre, 3
2002 "L'epopea di uomini e donne sulla rotta delle "silver darlings". La storia della grande pesca delle aringhe nelle Ebridi Esterne, in Scozia", L'Osservatore Romano, 27 luglio 2002, 3
2001 "Le inquiete acque dell'Oceano Atlantico e le aspre scogliere non sono riuscite a salvare gli isolani dall'"assalto" dei turisti. Visita al remoto arcipelago scozzese di St Kilda. La sua comunità, sgombrata nel 1930, viveva quasi esclusivamente della caccia agli uccelli marini", L'Osservatore Romano, 8 Febbraio, 3
2000 "L'epopea della grande pesca alle aringhe e le fisher girls delle Ebridi Esterne, Scozia", Rivista Marittima, CXXXIII, Novembre, 209-212.
2000 "Dal castello di Kisimul i pirati di Ruari MacNeil partivano per le loro sanguinarie scorribande. Viaggio nell'isola di Barra, la più meridionale tra le terre abitate dell'arcipelago scozzese delle Ebridi Esterne", L'Osservatore Romano, 4 Ottobre, 3.
2000 "Nell'"isola delle cornamuse" tra suoni e colori della Highland Gathering. A North Uist, nelle Ebridi esterne, la natura favorisce l'incontro con le antiche tradizioni scozzesi", L'Osservatore Romano, 28 luglio, 3
2000 "St Kilda, l'Islanda e i norvegesi: un seguito a "Balene e balenieri…", Rivista Marittima,CXXXIII, Agosto/Settembre, 205-208.
2000 "L'isola atlantica di Scarp, Ebridi esterne (Scozia)", Rivista Marittima, CXXXIII, Luglio, 207-209.
2000 "L'isola che ha dato il nome al "tweed" un tessuto conosciuto in tutto il mondo. Appunti di viaggio ad Harris, nell'arcipelago delle Ebridi Esterne" L'Osservatore Romano, 13 luglio, 3
2000 "Sull'"Isola della torba" si ergono i plurimillenari monoliti di Callanish. Lewis: un suggestivo angolo nell'arcipelago scozzese delle Ebridi Esterne", L'Osservatore Romano, 2/3 Giugno, 3
2000 "Remoto arcipelago di St Kilda, Patrimonio Mondiale dell'Umanità", Rivista Marittima, CXXXIII, aprile, 213-215
2000"L'organizzazione sociale delle Ebridi Esterne, l'ultima roccaforte della lingua gaelica. La vita nelle remote isole scozzesi, tra egualitarismo, "crofting" e tenace difesa della antiche tradizioni locali" L'Osservatore Romano, 31 Marzo, 3
2000 "Nelle ventose e remote terre dei Gaeli in un habitat tra i meno inquinati del pianeta. Le Ebridi Esterne, isole scozzesi dalla storia plurimillenaria e dalla natura incontaminata ", L'Osservatore Romano, 6/7 Marzo, 3
It has been writing on the Outer Hebrides Research:
"Italian takes time to study Isles" (SG. 14857), Stornoway Gazette, 31 July 1997, 6.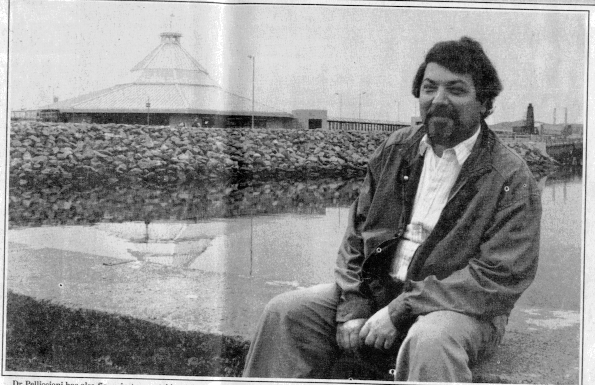 From the Stornoway Gazette Photo: in the Stornoway Harbour
For an Internet article (titled "Guga") go to the Site of the Stornoway Gazette and West Coast Advertiser (Guth Nan Innse-Gall),
http://www.hebrides.com/news/1997/0824.htm
MAPS
LINKS
Western Isles Islands Council / Western Isles Tourist Board / Hebrides Info: Virtual Hebrides / Callanish / Gaelic Culture/ Island Of Lewis / Island of Lewis 2 / Harris / Barra / Kisimul Castle / St. Kilda / Boreray / and what about the St. Kilda puffins? / Western Isles Islands Council: Links / Scottish Music Real Audio: A.Fraser / Every Celtic Thing on the Web / Guide to the Higlands / Celt Net / Piping / Bagpipe Web / University of Glasgow: Home Page - Library - Department of Geography & Topographic Science - Department of Sociology / The Scotsman / Statistics UK / British Library /
SEARCH ENGINES
REGIONAL
TO FRANCO PELLICCIONI MAIN PAGE:
Northern Atlantic Maritime Communities Program
[http:users.iol.it/f-pelli//f-pelli.hebrides.html.html]
ALL THE ENGLISH WEB PAGES BY FRANCO PELLICCIONI:

ATLANTIC RESEARCHES:

//Shetland and Orkney, Scotland, UK // Saint-Pierre, Miquelon (DOM, France), Newfoundland (Canada) // Svalbard, High Arctic, Norway // Faroe Islands, Denmark //Outer Hebrides -Western Isles- Scotland, UK / Iceland /

/ Arctic Research // African Research // Italy & Mexico /

THE BIBLIOGRAPHIES:

GEOGRAPHIC: Alaska / Canada/ Carnia / Egypt/ Italy / Kenya / Scotland / South Africa /Southern Sudan /Western Africa /

THEMATIC: ADVENTOROUS WOMEN: Great travellers, Explorers, Anthropologists, Archaeologists / American Indians / Applied Anthropology / Environment /Explorations / Inuit/ Maritime Museums / Multiculturalism / Non EU Immigration and the School /North Pole/ PIRATES AND PRIVATEERS IN NORTHERN ATLANTIC/ Racism /SHIPWRECKS / Slavery in Southern Sudan /Trains / Urban Anthropology / Viking World / Volcanoes/ Whale Hunting / "West" / General /

/ Document 1 //Document 2 // Document 3 // Document 4 /
in Italiano: Programma Comunità Marittime Atlantico Settentrionale

Tutte le Pagine Web in lingua italiana di Franco Pelliccioni

RICERCHE ATLANTICHE: Shetland e Orcadi, Scozia, Regno Unito / Saint-Pierre, Miquelon (DOM, Francia), Terranova (Canada) / Svalbard, Alto Artico, Norvegia / Isole Faroer, Danimarca/ Ebridi Esterne (Western Isles), Scozia, Regno Unito / Islanda-Groenlandia

Ricerche Artiche Ricerche Africane Ricerche Italiane Ricerche messicane

LE BIBLIOGRAFIE: Bibliografia Generale

1966-2006

AREALI: Africa Occidentale/ Alaska / Canada / Carnia / Creta / Egitto / Italia / Kenya /

Lisbona, Portogallo /Scozia / Sud Africa / Sudan meridionale /Tunisia

TEMATICHE:

Ambiente

/

Antropologia Applicata

/

Antropologia urbana

/

Balene /

Biografie antropologiche

/ Biografie archeologiche / Esplorazioni

/

Indiani d'America

/

Inuit (Eschimesi)

L'Avventura al Femminile: Grandi Viaggiatrici, Esploratrici, Antropologhe , Archeologhe

L'immigrazione extracomunitaria e la scuola

/

Mondo Vichingo

/

Multiculturalismo

/

Musei Marittimi

/

Nei Mari del Sud

/ Naufragi / Pirati e Corsari nell'Atlantico del Nord / Polo Nord

/

Razzismo

/

Schiavitù nel Sudan meridionale

/

Treni

/

Vulcani "West"

/

17 articoli on line di Franco Pelliccioni

/ Documento 1 /Documento 2/ Documento 3 /Documento 4 /

Uomini, Genti e Culture del "Villaggio Globale": Una Lettura Antropologica dell'Ambiente

Natura e Cultura nell'Alaska del Duca degli Abruzzi (1897) ;

Guerra o Pace: riflessioni di un antropologo su un eterno dilemma

Problemi socio-antropologici connessi allo sviluppo nel Mezzogiorno
UPDATED 2, 7, 2006