Green Camera II
"Green Camera II"

The camera was reappraised and improved. Particularly, I made changes in the back carriage: now it is totally wood made. But I did not change anything in the drawings of the original camera.
The bellow drawings are not enclosed with the project.
The "Green camera II" was conceived to be made using very common hobby tools .
However you need also a good gift for manual skill and a lot of patience together.
---
Fabio Quadarella: PLANS FOR BUILDING A LARGE FORMAT CAMERA: "4 x 5 - GREEN CAMERA II"
- Total plans n. 8
- Scale of drawings: 1/1 (othographies, three-dimensional views and details)
TABLE OF CONTENTS
TAB. 1 Views of camera
TAB. A Back box
TAB. B Back
TAB. C Back (Ground glass)
TAB. D Bed
TAB. E Back carriage
TAB. F Standard carriage
TAB. G Standard
---
instances from original plans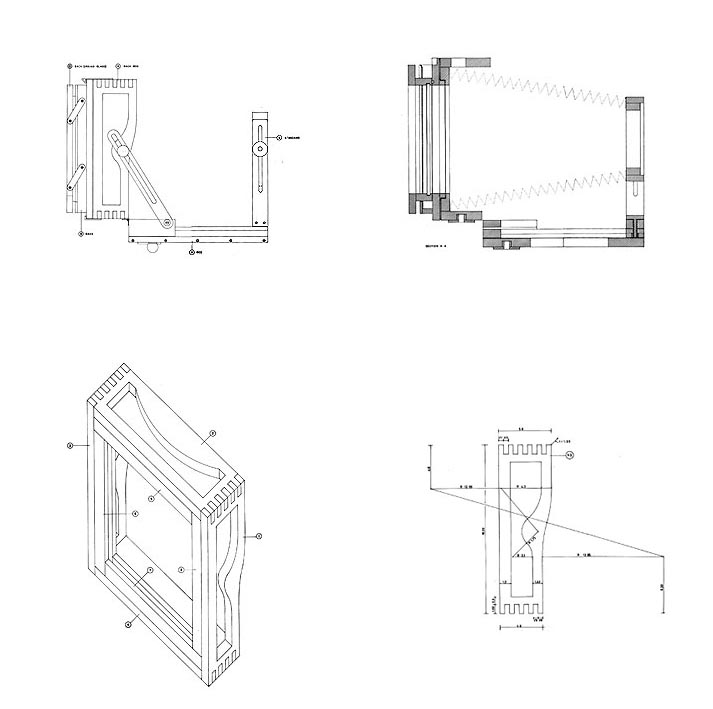 ---
Did you arrive here by search engine? This link will take you to startpage of the
HANDBUILDING 4"x5" FOLDING CAMERA WEBSITE
---