hey always spoke of him with such respect, even reverence. They said he was a good, kind man, a gentle man who was patient and never spoke unkindly of anyone. They said he had a fine reputation as a hard worker, that he never left a job that he couldn't return to. There were a few old pictures and keepsakes but it was difficult to really 'know' him through pictures. There was a postcard he wrote to his son many years ago, but it was written in Nones and we weren't taught to speak that language.
My grandfather, Virginio Anselmo Graiff, died in 1925 when he was not quite 35 years old. His widow, Emilia Pitscheider Graiff, was just 30 years old at the time. He also left behind a young family: a son, Louis Joseph was 12, his sister, Evelyn Rose was two years younger and Ruby Ester was just two years old. There was another son, Ernest, who died following an accident when he was just one year old.
In spite of their losses this family was full of love and devotion, but they were not prepared for what life would be like without their Papa. They had no idea what a devastating loss this would be, or how this terrible loss would effect the family for generations to come.
Virginio was from Romeno and he immigrated to the United States in the early 1900s. His wife, Emilia, was from Dambel and she immigrated with her mother, Rosa Zini Pitscheider and her sisters: Albina , Savina, and Adelina in 1909. Her sister Carlotta, had immigrated earlier. Virginio and Emilia did not know each other in Val di Non. They met in Wyoming where they were married in 1912.
We know in that era, they, like so many others immigrated to the United States looking for a better life. We know they fled the famine and poverty of Val di Non at that time. I don't know that they found all they had hoped for in their new land. My grandfather and his brothers worked in the gold mines of Leadville, Colorado. Mining was very difficult and strenuous work. The hours were long and the conditions very poor. They did not have safety precautions in those days to protect the miners. They inhaled the gold dust which acted much like a sort of cement in their lungs, which apparently hastened the death of the three brothers who remained in the United States. His brothers Angelo and Germano preceded him in death.
Virginio moved from Leadville to Diamonville, Wyoming and in 1917 he moved his family to Idaho.
It has been said that my grandfather did not seem to be very healthy after working in the mines and times were hard. He built some apartments where they lived for a while and later he built a home on a prime piece of land situated at the crest of a hill, on high ground.
About three years ago our family returned to Lava Hot Springs, Idaho for a memorial service for Emilia. We had the opportunity to visit the home Virginio built. To this day it stands sturdy, tall and proud, much like I've imagined my grandfather did.
After my grandfather died, the family struggled, Emilia remarried, years passed and the children grew up and embarked upon lives of their own. As their families grew, they remained a close family. Virginio's children told their children stories about their grandfather, but they didn't have the benefit of really knowing him.
As time progressed and his descendants matured and began to lose their parents, it became abundantly clear that if ever they were to try to find their heritage, it had to be now, before the line is lost forever. By now my grandfather's two oldest children Louis Joseph and Evelyn Rose had died, only Ruby Ester remained. We rather randomly talked about doing this, but no one knew exactly how it could be done.
ne day I entered the world of the Internet. Rather tentatively, I typed in our family name: GRAIFF. This revealed one person, entered several times, with different e-mail addresses. Thinking our name was uncommon, I was surprised to find anyone with that name. This posed a new dilemma, I didn't know this person, dare I send him an e-mail? Remember I was very new to this whole process at that point.
For a few days I thought about it and finally decided I had nothing to lose and so much to gain! I composed a rather clumsy sounding e-mail message, asking if this stranger's family originated from Romeno (Austria), Italy. I didn't know what to expect, but found that I had contacted a Graiff descendant whose family indeed originated in Romeno. John Graiff actually descended from Graiffs on both sides of his family. He is the son of Vittoria and Ermanno Graiff. John asked for more detail about my Graiff family and concluded we may not be related, but there was a man from Cles, near Romeno named Graiff, who had contacted him just a few months earlier. He gave me the name and e-mail address for Dr. Andrea Graiff, a physician and surgeon in Cles. He assured me that while I did not speak or write Nones or Italian, Andrea would be able to understand me and he was sure Andrea would respond to me. I remember thinking, 'What a nice and helpful man. Sure hope the rest of the Graiff's are like this.' There wasn't much of a dilemma this time, I quickly forwarded the message and my comments, family details and many requests.
I told him, my grandfather was Virginio Anselmo Graiff. He was the youngest son of eight children born to Bellarmino and Candida Zucal Graiff. He and three of his brothers immigrated to the United States, I believe in the early 1900s. One of his brothers, Gioele, returned to Romeno. Another brother, Celeste, did not immigrate, but remained in Romeno. There were three sisters: Angela Graiff married Giuseppe Fattor. Ester Graiff married Giuseppe Rosati. Celesta Graiff married Luigi Gabardi.
Andrea responded, asking more questions and provided me with a unending supply of information about the family we share. He sent a copy of the Familia Graiff lineage, handwritten by the Parish Priest of the Church of Romeno, dating back to the early 1600s. He sent a copy of the Graiff Coat of Arms and enlisted Giancarlo Graiff to provide an extensive data base full of Graiff information. Andrea even translated the postcard my grandfather wrote to my father when he was just a boy. It revealed the words of a very kind and thoughtful man. "My goodness", I thought, "there's another very nice and helpful Graiff.".
Comparing Giancarlo's data base with the Family Tree Maker data base I was using, I discovered previously unknown links. I was amazed to discover how interconnected our family is. I began to search the documents and find that I had more and more questions. Each time I discovered something new or interesting, I'd write to Andrea and he would patiently explain to me whatever it was I was questioning. Andrea always came through with a constructive response.
Andrea and I turned out to be 4th cousins. Our grandfathers, both named Virginio Graiff, were 2nd cousins. John Graiff, the first gentleman I contacted is not as closely related, we are 7th cousins, but we are still related!!
We shared old pictures of our family members, our grandfathers, fathers, etc. I continually asked about recipes and customs. Our family in the United States had continued to prepare what I think of as 'comfort food' the foods that made our grandparents think of home. Because they introduced us to some of their traditions, we find comfort in preparing some of the foods of their generations. I just assumed that since Polenta was such a staple in the Val di Non region, it would be as widely consumed today. We certainly did our part to eat enough Polenta to keep that tradition alive! The Polenta stick was also a feared and even 'hidden' instrument of discipline in some households. Just imagine my surprise to find Polenta is considered an older generation cuisine, especially since in America it is considered gourmet. We eat Smorn too, it evokes great memories of our Granny, but have learned it is also a part of the older generation. Recently Andrea sent the recipe for Torta di Patate. This was very special because our Granny, Emilia, used to prepare it. What wonderful memories that created. It fed my soul as well.
With each holiday, Andrea has to answer a new list of questions about the customs of Val di Non. He patiently shares those customs and sends pictures to show me what is 'presepio', etc. Oh, now I know, we call it The Nativity Scene.
In addition, Andrea put me in contact with the Stefano Diciccio, the great grandson of my grandfather's sister, Ester Graiff Rosati. We share thoughts and events by e-mail frequently. He is in the process of buying a home nearby and we've shared thoughts about kitchen arrangement and the number of electrical outlets, etc. Such a nice young man.
Andrea also told me of a cousin of mine named Elena Graiff, who lives in Romeno. She is the daughter of my father's first cousin, Luigi Graiff. Interestingly, my father Louis and her father Luigi were born one week apart. Sadly, they did not know of each other during their lifetime. They were from another era, before computers and the internet. My father would have been amazed at how well we can communicate in today's world. I've written a letter to Elena and hope that we can also find a way to communicate and learn more of each other and of the history we share.
One day I wrote to Andrea and told him that I knew another of my grandfather's sisters, Celesta, had married Luigi Gabardi and lived in Magalo, but I knew nothing of her family and especially since they would be close cousins I would like to learn more. Andrea said he thought he knew one of her descendants. With his usual efficiency, he set about gathering information on our behalf. Soon, he sent a picture of Virginio Gabardi who would have been first cousin to my father. Then before long he provided additional pictures and helped with identifying the pictures of the other family members. When last I heard, there was an old letter which Virginio and his wife were looking for to share with me. This letter was written to by my grandfather to his sister, Celesta. It will represent yet another opportunity to know a bit more about my grandfather and his relationship with his youngest sister. What a wonderful thing it is that they've saved this letter and even more wonderful they are willing to share it with me. I hope to come to know this family better in our future. They are, after all, my family.
Again, through Andrea and his contact with the residents of Romeno, we were able to obtain the telephone number to contact the Polloni's in New York, they descend from Virginia Graiff, the only child and daughter of Celeste Graiff. It is particularly interesting that Celeste was the only one of the brothers who did not immigrate to the United States, chosing to remain in Val di Non, Yet, his descendants did immigrate. It was wonderful talking with Renata Graiff Polloni. She was also very helpful and we have agreed to write to eachother and to stay in contact.
I realized we were learning so much about the Graiff side of my family, we now knew more Graiffs than Pitscheiders. Again, I asked Andrea about whether he knew of or about any Pitscheiders in Dambel. He did some inquiring and found there no longer were any Pitscheiders in Dambel, but he knew of a Pitscheider in Bolzano. He would make a call and see what he could find out.
Soon, Andrea provided a name and address. I wrote to this Pitscheider in Bolzano and after a time, received a response by e-mail which confirmed, indeed, he was a second cousin to me. Fortunately, we've begun to learn more than we ever have known about our extended Pitscheider family as well.
his is one of the most treasured experiences of my life. It is wonderful to communicate with those with whom you share blood lines, customs which are familiar and unfamiliar, heritage and history. It gives me great comfort and so the search continues...
I've been searching also within the United States for Graiffs. I've found a few, some spelled Graif and some spelled Graiff. I've had mixed responses and in some cases, no responses at all., but I am not at all discouraged.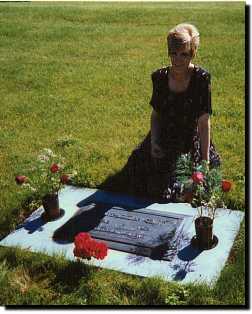 What once was little more than idle curiosity has evolved into a labor of love. Each new discovery builds my interest and my desire to continue gathering all the Graiff data I can.
I realize the Romeno my grandfather left is very unlike the Romeno of today. Still, I have a compelling need to walk the streets he walked, to see the sights he saw in the village he called home for so much of his life, many years ago. It is my fondest hope to visit during the year 2000. Other family members are planning to travel in the Spring of 2000.
It would be wonderful to hear from any Graiff or Pitscheider descendants who may wish to communicate with me.
My e-mail address is: bnjnewman@earthlink.net
My residence address is: Jeannie Graiff Newman 42270 Agena Street Temecula, California, USA 92592