See also:
aving experienced such good fortune in my search for the Graiff's, my grandfather's family, it became apparent we needed to learn much more about my grandmother's family, The Pitscheider's. Funny, we thought we knew so much about our Pitscheider lineage. We had no idea!! This Pitscheider family had the nickname: Santini. My great grandfather, Bortolo Pitscheider was the son of Domenico and Santina (Zanolli) Pitscheider.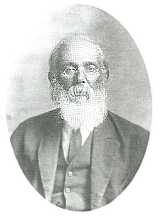 We've been told he had a wonderful singing voice and he sang opera. My great grandmother, Rosa Zini, was the daughter of Ambrogio and Eleonore (Zucal or Zucol) Zini, they were from Sarnonico, but they moved to Cavareno when they married and that is where they raised their family. This search may be somewhat more difficult, due to the total immigration of the core of our part of the Pitscheider family. We descended from the second family of Bortolo Pitscheider, during his marriage to Rosa Zini. They were married and lived in Dambel, in Val di Non. It was in Dambel that their children were born. Also, it was in Dambel that Bortolo died. Bortolo had owned a large home in Dambel where he lived with his first family. He sold this home before he married Rosa Zini and they lived in a smaller home, also in Dambel, on the edge of town. Today there are no longer any Pitscheiders living in Dambel. The children of Bortolo's first marriage were: Carlo Pitscheider, born in 1864 and died 1950, was a cabinet maker. He was married twice and had seven children. Ottilia and Costante-Angelo were his first family. His second family were sons: Gino, Carlo, Francesco, Emilio and a daughter, Carolina who still resides in Sarnonico. Virginio Pitscheider, who was a painter and at one time had painted most of the signs in Mendola. It was while painting a sign at Trattoria Alpina, a delicatessen, that he fell from his ladder and to his death. Their sisters were Rachelle Pitscheider Giuliani, Marietta Pitscheider, who we were told did not marry and Albina Pitscheider Erspamer. We don't have any further information regarding Rachelle and Marietta. Albina Pitscheider, the youngest of these sisters, immigrated to the USA. She married and had two children, a daughter, Lena and a son, Arthur. I've been told that Albina visited sometimes in Malosco. She remained very much a part of this family and was cared for by my Grandmother, Emilia until her death in Tacoma, Washington. We know that by 1909, Rosa Zini Pitscheider had been widowed and was 52 years old. She immigrated that year, along with her youngest daughter, Emilia and Mary, the very young daughter of Savina. They left Tyrol for Insbruck, Austria and then on to Paris, France. They traveled by boat, arriving at Ellis Island in New York one week later and then traveled by train and arrived in Wyoming on August 15, 1909.
osa Pitscheider must have been a very strong and determined woman. What courage it must have taken to leave behind all she knew in her home land and immigrate across the ocean to a new country, where she would not even know the language. In Wyoming, she ran a boarding house and later moved to Idaho. Something else we know about Rosa Pitscheider: She raised four lovely daughters who lived near eachother in a small farming community called Lava Hot Springs, Idaho. They enjoyed continuing to share their lives together and raise their children to be a close family. The daughters of Bertolo and Rosa were: Carlotta (Charlotte) Pitscheider was born in 1884. She was the oldest of the four girls and the first in the family to immigrate. She married John Rizzi, who was born in Cavareno in 1879. He immigrated in 1902 in Wyoming in1905. They lived in Wyoming and Idaho. She later moved to Oregon. Savina Pitscheider was born in 1886. She married Bertolo Giuliani (Bert Julian) in Dambel in 1904 and later immigrated, leaving their daughter Mary in the care of her mother until 1909. They lived in Wyoming, Idaho and Washington. Adelina (Lena) Pitscheider was born in 1891. She immigrated in 1908 and in 1910 married Giuseppe DeGiorgio from Spera, Austria. They lived in Wyoming and Idaho. My Grandmother, Emilia Pitscheider was born in 1894. She immigrated in 1909 and married Virginio Anselmo Graiff (Jim Griff) who was from Romeno, in 1912. They lived in Wyoming and Idaho. All of the girls lived long lives. The shortest life ended at age 83, the longest at age 101. We also know Rosa's daughters raised loving children, which created in this generation a family that feels truly connected no matter how far apart we may live. Each of Rosa's children's children are proud of their heritage and very grateful for the qualities and traditions handed down through the generations.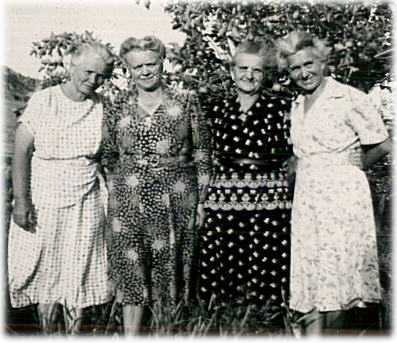 Adelina, Carlota, Savina, Emilia
here is in this family a recognition of value of our parents and siblings. While striving to achieve for ourselves, we've not lost sight of who we are or where we came from. This kind of value of family continues to be passed along the generations. It is what makes this family.....special. While searching for my Graiff family, I inquired with Dr. Andrea Graiff, sharing much of this history with him, whether he knew of any Pitscheider descendants in Val di Non. It was not long before he shared with me there was a Cardiologist in Bolzano, by the name Dr. Walter Pitscheider. He would make contact for me and try to obtain an address where I could write. Andrea provided the information and I wrote a letter, explaining who I was, why I was contacting him, offering all I knew of the Pitscheider family complete with names and professions of the men. I took a deep breath and wondered: Could it be possible this gentleman may have some information to share? Will he be kind enough to write to me? I waited and wondered and I hoped I would hear something. The mail service is not expedient between the USA and Italy. I'd been told he would soon be connected to e-mail. I had no idea how long it may take to get a response, if I were to hear anything at all. Then one day I came home from work and checked my computer for any new e-mail messages. Oh my, there was a communication from Walter Pitscheider. I held my breath and began to read the message, part of which said ..... "Carlo Pitscheider, Cabinet Maker, was my Grandfather". How wonderful!! This meant I had located a second cousin. We began to write back and forth, sharing information and family pictures. It is my hope as time goes on, we will be able to establish a very comfortable relationship which will continue throughout our lives. Perhaps, regaining a small part of what was lost to us as descendants of those who immigrated so long ago, looking for a better life. There are still many questions, many pieces to the puzzle yet to discover. Finding those who also have descended from our common ancestors is a great gift which allows us to learn much more about the character, talents and interests of those special people who were our forefathers. If anyone has more information about the families discussed here, I'd be very pleased to hear from you.