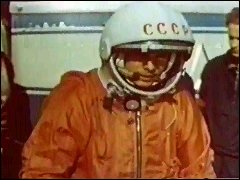 The event
"Gawarit Moskva. Yury Alexeyevich Gagarin sputnika Vostok" Radio Moscow speaker said on April 12, 1961 announcing an amazing news.
At Moscow time 09:07 a.m. a voice from a loudspeaker somewhere at the Baykonur Cosmodrome in central Kazakhstan, U.S.S.R., said "Zazhyganiye" (Russian for "ignition") and the first manned space adventure begun. The most powerful rocket at that time carried a young jet fighter pilot, parachutist and, moreover, cosmonaut into space. His name was Yury Alexeyevich Gagaring, 27 years old, married, with two children.
Yury was born in Klushino, a village near Smolensk, of the western Soviet Union. In 1959 he joined as volunteer to a group of about 3,000 men for a new amazing project. Eventually 20 cosmonauts were selected and Yury was one of them.