[english - italian]
HANDBUILDING A 4"x 5" FOLDING CAMERA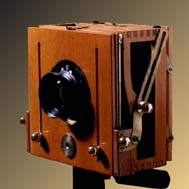 TWO 4"x 5" FIELD VIEW CAMERAS AND A CAMERA-ENLARGER SYSTEM
Welcome.
here you will find the description of two 4"x5" view cameras and a camera-enlarger system, enterely handbuilt by myself.
My favourite hobbies are designing and making wooden field cameras.
At present I make small 4"x 5" folding cameras, easily transportable, but versatile at the same time. My target is doing wooden cameras with a few components.
I think that nowdays is a very interesting experience handbuilding a large-format camera and above all managing with it helps you to understand the essence of real photographing: composition.
---
Notes - This camera is very simple, apparently without any mechanism. I designed it as a complementary part of the enlarger described below. The distinctive feature of this camera is the mechanism of focusing: a long threaded pivot (hidden in the basic plate) controlled by a gear set in the back. In this way I overcame the difficulties to find racks and pinions! Moreover the camera is enriched whit a reflex visor.
Specification - wood: seasoned walnut/ closed dimensions: 17.8x17.8x10.5 cm./ extension of bellows: 30 cm./ lensboard mov.: orizz..+- 3 cm., vert.+- 3 cm./ swing lens +- 30°.
---
Notes - This camera can be used in two different ways: open for normaly usage with various lens; closed only with 75 mm. lens. In closed position it works like a fixed focus panoramic camera (set on hyperfocal distance), so it is very quick to take a photo because it isn't necessary to set movements of lensboard and back box. The windows on three sides reduce the weight of the body and give a sophisticated look to the camera. The platform has a circular window to receive 75 mm. lens in a closed position. A green reflex visor (same color of bellows) makes easy focusing on the ground glass and it improves the camera.Specification - wood: seasoned walnut /closed dimensions: 18.8x18x12 cm./ extension of bellows: 7-35 cm/ lensboard mov.:orizz.+-2.5 cm., vert.+- 3.5 cm./ swing lens: +- 30°/ swing back: +- 45°. Green Camera II: Istances from original plans
---
Notes - This enlarger constists of two parts: the lantern with an octagonal reflecting diffuser and a lower body with a 4"x5" folding camera (blu camera) that can be used separately. A multicoloured column is fixed on the wall and the camera-enlarger system changes up/down by a counterbalanced carriage. The focusing of enlarger is the same of the camera. At the moment I successfully use the lens (150 mm.) of the camera.
Specification - wood: camera- seasoned walnut; column and carriage- fir-wood.
---

---
SOME PICTURES FROM 4"X5" NEGATIVES
SOME PICTURES FROM 6x6 NEGATIVES
SOME PICTURES FROM 35 mm NEGATIVES
---
A VERY IMPORTANT REFERENCE

Jon Grepstad: Building a Large Format Camera
---
Home page by Fabio Quadarella
Last modified: June 2014
Many thanks to Vittoria and Enzo
---